LG BRINGS CONTENT TO LIFE FOR LOCAL BUSINESSES WITH ADVANCED LED SIGNAGE TECHNOLOGY
Freedom of Design, Outstanding Visibility and World-Class Reliability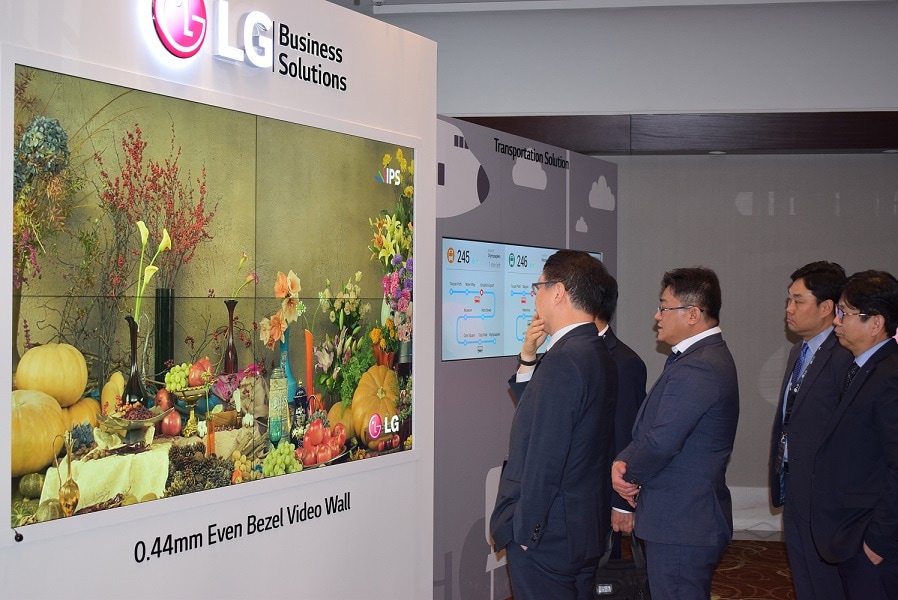 DUBAI, Apr. 28, 2019 – LG Electronics (LG) successfully concluded MEA LG Connect 2019, its annual exhibition for VIPs and partners, with the unveiling of a lineup of innovative digital signage solutions for businesses. Over 100 customers took the opportunity to experience LG's latest display technologies at the Grand Millennium Hotel in Business Bay.
In addition to advanced OLED technology and ultra-thin video walls, MEA LG Connect 2019 saw LG's LED technology gain widespread attention. With various customizable formats, LED signage from LG is designed to cater to a range of business needs – from hospitality and retail, to boardrooms and control centers.
On display at MEA LG Connect was the company's premium fine-pitch LAPE series LED display (model LAP015EL6B). LG's LAPE signage fuses a world-class, slim LED screen with flexible design concepts. Specially designed with flexible LDM (LED Display Module), the LAPE series supports concave and convex curvature up to 1,000R, providing businesses with the ability to create curved screen displays and provide a greater sense of immersion.
Using LG's Dynamic Contrast Algorithm, the LAPE series delivers vibrant and distinctive picture quality, with a wide range of color details and deep contrast. Powered by LG's advanced display technology with a high refresh rate of 3,840Hz, viewers experience smooth playback of content, with flicker-free images even when captured on camera. With power supply units (PSU) separated from the screen, internal thermal conditioning is regulated with greater efficiency.
To find out more about how LG's LED Signage can help improve audience engagement, please visit: www.lg-informationdisplay.com/product/led-signage.
# # #
About LG Electronics Business Solutions Company
The LG Business Solutions Company is a trusted partner offering innovative products and solutions for international customers worldwide. Through unique offerings such as industry-leading OLED signage and video walls with nearly invisible bezels, LG has made itself a formidable name in the commercial sector. With heavy investments in future growth engines such as high efficiency solar solutions, energy storage systems (ESS) and energy management solutions (EMS), LG is committed to returning strong value to its customers. For more information on LG's Business Solutions, visit www.ccc-sh.net/b2b.
Media Contacts:
Karima Karmouzi
LG Electronics MEAHQ
Tel: +971 563105587
Email: karima.karmouzi@lge.com
Aaron Budwal
LG-One
Tel: +971 45539543
Email: aaron.budwal@lg-one.com