LG Knows How to Make Your Smart Kitchen Smarter
Customer-centric LG Electronics (LG) products perfectly balance an ideal blend of ergonomics, aesthetics and sustainability
DUBAI, UAE – 06 January 2019: LG Electronics (LG) has always been on the frontline of bringing revolutionary technologies to its trend-setting consumers. Striving to continuously refine its products, string enhanced functionality and aesthetically-pleasing designs, LG is revolutionizing the concept of the home kitchen all-together. From creating unconventional microwaves in which you can ferment yoghurt or ovens that come with a rotisserie, LG is no stranger to innovating appliances to make people's lives more productive and convenient.
Even with all the consumer-friendly appliances and productivity-boosting technologies being introduced to the market, there is one kitchen appliance that is not being replaced in anyone's kitchen anytime soon – the refrigerator. The LG InstaView? Door-in-Door? technology is a game-changer – one the Middle East region will surely embrace once they make their debut. It is one refrigerator that radically redefines one of the most essential household appliances with its cutting-edge technology, stunning design and sustainable capabilities.
Mr. James Lee, President of LG Electronics Middle East & Africa (MEA) commented: "It is an exciting time to be witnessing such disruptive technologies evolve. This award-winning refrigerator will fit in perfectly in any kitchen, making any kitchen a much more efficient part of the home ecosystem. The InstaView refrigerator is a testament to our consumer-oriented efforts to continue creating revolutionary technologies and user-friendly innovations to better the lives of our consumers and we look forward to welcoming more game-changing innovations in the future."
The fridge features a transparent glass panel – with just two quick knocks, users can see what is inside without having to open the door and waste energy. The innovative tinted panel not only prevents cold air from escaping, it helps keep food fresher longer. Combined with the sleek stainless steel, smudge-proof finish, and your kitchen is transformed to a gathering place that reflects your personal style and you can be proud of.
Additionally, the InstaView has an impressive capacity, giving consumers plenty of space to store food and cut down on trips to the grocery store. Another feature, the Slim SpacePlus Ice System is an innovation that provides a wealth of shelf space and even more room for door bins. The LG Linear Compressor and Dual Evaporators keep humidity and temperature at ideal levels to ensure your food is surrounded by cool, fresh air no matter where it sits in the fridge.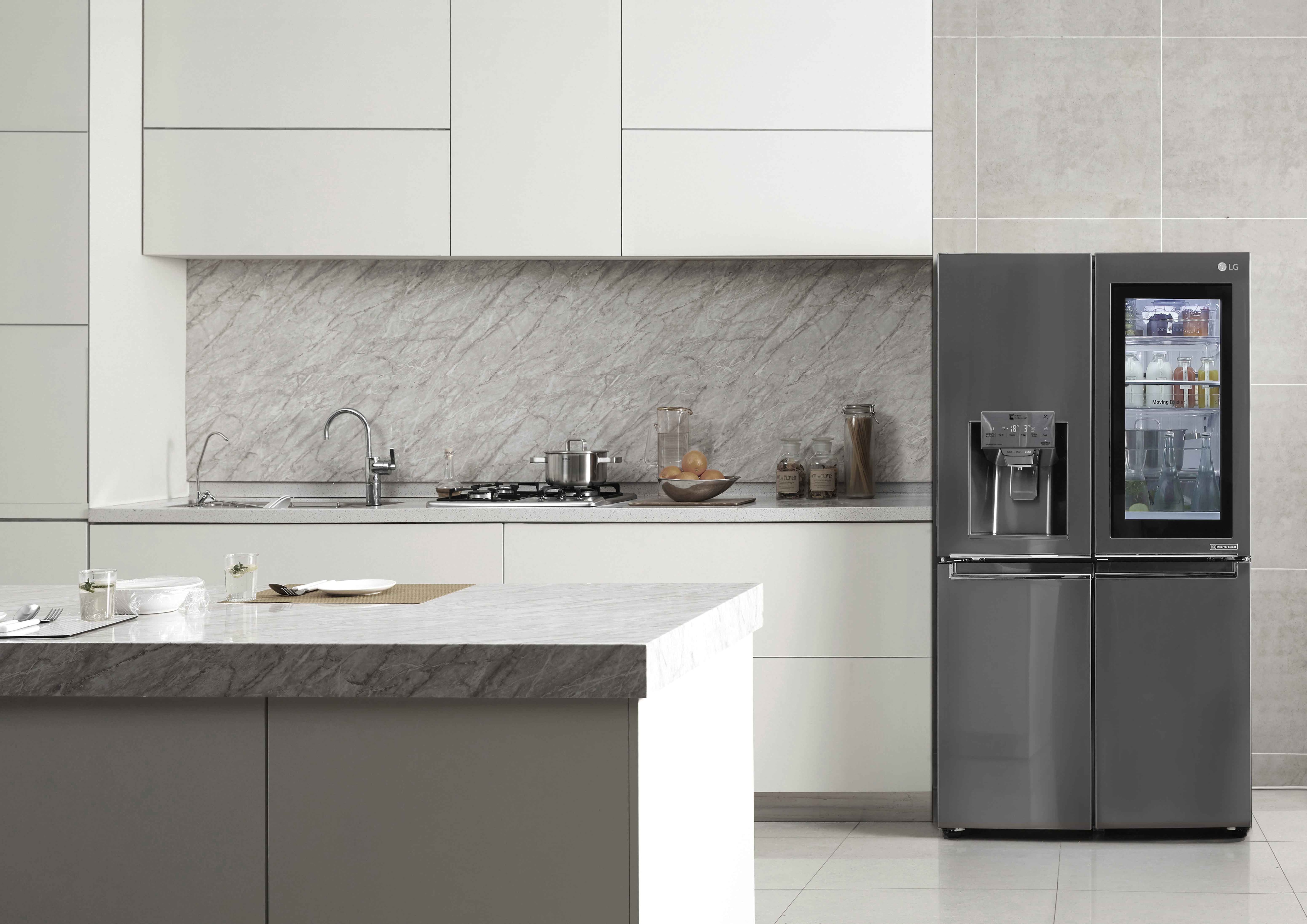 In 2017, the InstaView refrigerator was recognized by Red Dot for successfully combining a beautiful appliance with interactive and intuitive technology. The fridge can also be controlled using the SmartThinQ application from your smart device and notifications and updates can be sent to users remotely. Owners will be able to manage their entire homes without needing to lift a finger!
As energy-saving becomes a bigger priority in the Middle East, governments, organizations and individuals have largely been focusing their efforts to decrease energy consumption to more sustainable levels. LG features intuitive, responsive designs that are created in a socially responsible way, so consumers can spend more wisely, make more informed decisions on buying specific technologies and generally impact the world around us. LG is committed to providing various electronics that work best for the way its users live.
To find out more about the LG's Smart line of refrigerators and other product solutions, please visit: https://lg.com/ae.
# # #
About LG Electronics, Inc.
LG Electronics, Inc. (KSE: 066570.KS) is a global leader and technology innovator in consumer electronics, mobile communications and home appliances, employing 77,000 people working in 125 locations around the world. With 2016 global sales of USD 47.9 billion (KRW 55.4 trillion), LG comprises four business units ― Home Appliance & Air Solutions, Mobile Communications, Home Entertainment and Vehicle Components ― and is one of the world's leading producers of flat panel TVs, mobile devices, air conditioners, washing machines and refrigerators. LG Electronics is a 2016 ENERGY STAR Partner of the Year. For more news and information on LG Electronics, please visit www.lgnewsroom.com.
About LG Electronics Home Appliance & Air Solution Company
LG Electronics Home Appliance & Air Solution Company is a global leader in home appliances, air conditioning and air quality systems. The company is creating total solutions for the home with its industry leading core technologies. LG is committed to making life better for consumers around the world by providing thoughtfully designed products, including refrigerators, washing machines, dishwashers, cooking appliances, vacuum cleaners, built-in appliances, air conditioners, air purifiers and dehumidifiers. Collectively, these products deliver enhanced convenience, superb performance, great savings and compelling health benefits. For more information, please visit www.ccc-sh.net.
Media Contacts
LG Electronics Gulf FZE
Karima Karmouzi
Tel: +9714-350 9500
Fax: +9714-334 4304
Email: karima.karmouzi@lge.com
LG-One
Aaron Budwal
Email: aaron.budwal@lg-one.com