BEAT THE HEAT: LG KEEPS MEA COOL WITH ITS NEW RANGE OF AIR CONDITIONERS
The latest DUALCOOL air conditioners are designed with ultimate comfort in mind
LG Electronics (LG) impresses visitors at InnoFest MEA with its new Split Air and Floor Standing DUALCOOL air conditioners for 2019.
Featuring full-scale air purification, the revolutionary two-in-one DUALCOOL Split Air Conditioner sets itself apart from the competition with its ability to effectively clean the air while keeping the home comfortably cool.
The LG Air Purifying System built into DUALCOOL Split Air Conditioner removes microparticles, or particulate matter (PM), through a three-step process. First, the sensor detects dust particles up to PM1.0 in size along with other harmful airborne matter. Next, the Ion Diffuser generates over five million negative ions that attach to the particles. And finally, the positively charged Micro Dust filter easily filters out tiny, negatively charged microparticles including viruses and bacteria. Using the principle of electrostatic charge, LG's system also filters out minute, inhalable particles (up to PM0.3) that can cause respiratory issues.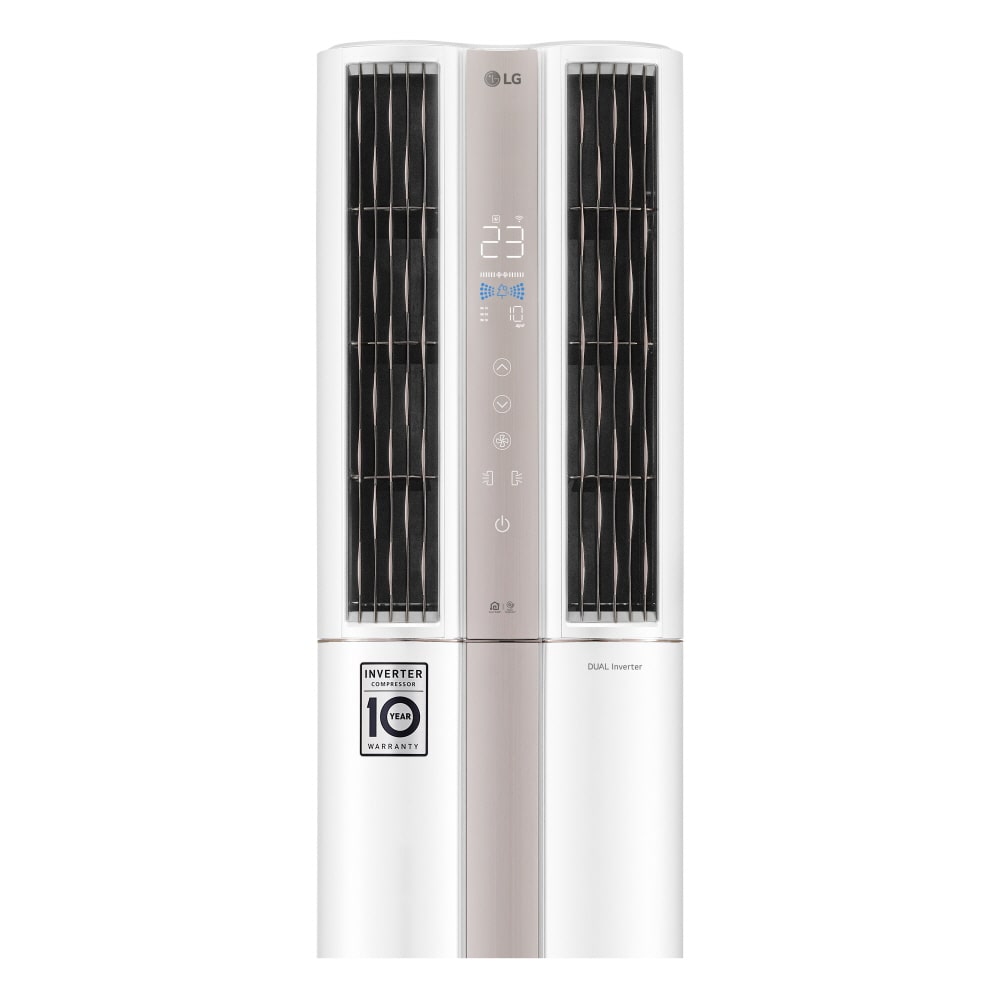 Providing essential information at-a-glance, the Indoor Air Quality (IAQ) Display shows current conditions and air purification progress via icons that change color to reflect the cleanliness of the surrounding air. Located on the DUALCOOL's front panel, the simple, colorful display indicates indoor air quality in real time, irrespective of whether purification is running or not.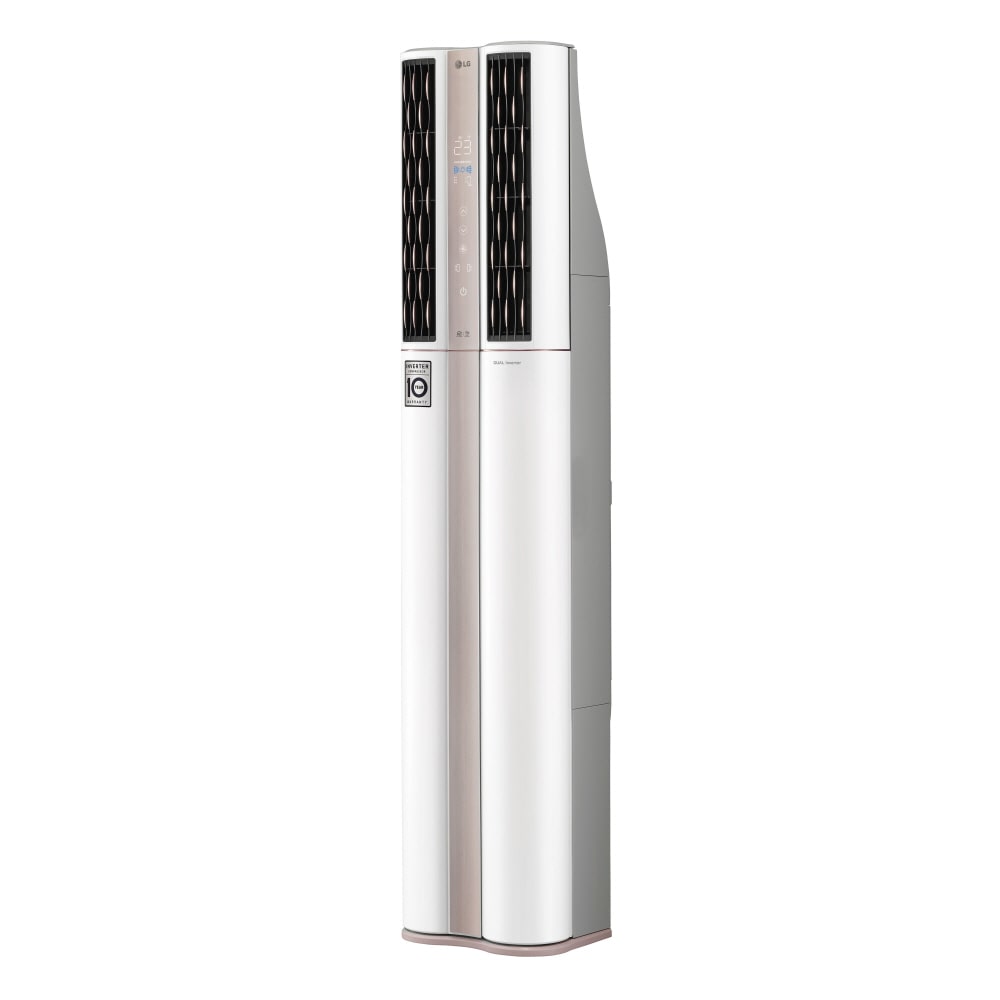 In addition, the LG DUALCOOL Split Air Conditioner offers high-performance cooling, with the use LG's advanced DUAL Inverter Compressor, saving energy and cooling faster than a conventional model. Meanwhile, the Comfort Air mode helps users feel more relaxed and protects their health by adjusting the vane to the optimal angle, keeping airflow circulating around the room, rather than blowing directly onto the individual.
At InnoFest MEA, LG also introduced its DUALCOOL Floor Standing Air Conditioner – a luxurious model, aiming to bring sophisticated style to homes across the region. Delivering effective cooling performance and convenient control, the DUALCOOL Floor Standing appliance will let consumers enjoy an indoor life of unparalleled comfort and ease.
The latest standing-type DUALCOOL elevates any living space with its premium design. The Chandelier Grill – vertical vanes on the front of the air conditioner – boasts elegant lines with flowing curves and shining dew-like accents. The metallic exterior of the DUALCOOL helps to create a minimalist feel and comes in a choice of two exclusive colors: premium gold and white.
The new Floor Standing Air Conditioner offers a robust cooling performance. Its entire ventilation section has the ability to move, ensuring wider coverage and enabling the DUALCOOL Floor Standing unit to cool every corner of the room. For fast cooling, the Ice Cool Power mode distributes air that is 4 degrees Celsius lower than in normal mode. Ice Long Power generates even more powerful airflow to further maximize user comfort.
Moreover, the Wi-Fi-connected appliance provides remote control through SmartThinQ?, making it possible to manage settings and check energy consumption via a smartphone. To emphasize the reliability and durability of the Air Conditioner, the company backed its Inverter Compressor with a 10-year warranty.
"Developed solely with user comfort and style in mind, we're proud to have showcased our latest Split and Floor Standing DUALCOOL air conditioners at InnoFest MEA," said Song Dae-hyun, President of LG Electronics Home Appliance & Air Solution Company. "By offering top-quality air conditioning and purification, our innovative appliances empower consumers across the region to enjoy a comfortable and healthier indoor environment."
# # #
About LG Electronics Home Appliance & Air Solution Company
The LG Electronics Home Appliance & Air Solution Company is a global leader in home appliances, smart home solutions, air quality systems as well as futuristic products featuring artificial intelligence. The company is creating total solutions for the home with its industry leading core technologies and is committed to making life better for consumers around the world by developing thoughtfully designed kitchen appliances, living appliances and air solution products. Together, these products deliver enhanced convenience, superb performance, efficient operation and compelling health benefits. For more information, visit www.ccc-sh.net.
Media Contacts
LG Electronics Gulf FZE
Karima Karmouzi
Tel: +9714-350 9500
Fax: +9714-334 4304
Email: karima.karmouzi@lge.com
LG-One
Aaron Budwal
Email: aaron.budwal@lg-one.com