Experience a unique and state-of-the-art living experience with LG SIGNATURE
DUBAI, UAE, July 31, 2018 — LG SIGNATURE products promote a stylish lifestyle that brings together art, elegance, sophistication and state-of-the-art technology. LG's super-premium brand provides refined elegance and aesthetic satisfaction by achieving a minimalist design while flawlessly blending in its surrounding to give the most discerning customers an exceptional living experience that boasts charm and innovation..
The demand for luxury goods is increasing across the GCC. In fact, according to Goldstein Research analyst forecast the UAE luxury goods market to expand at a CAGR of 7.1% during the forecast period 2017-2025. Moreover, the market is projected to reach USD 7.8 Billion by 2025.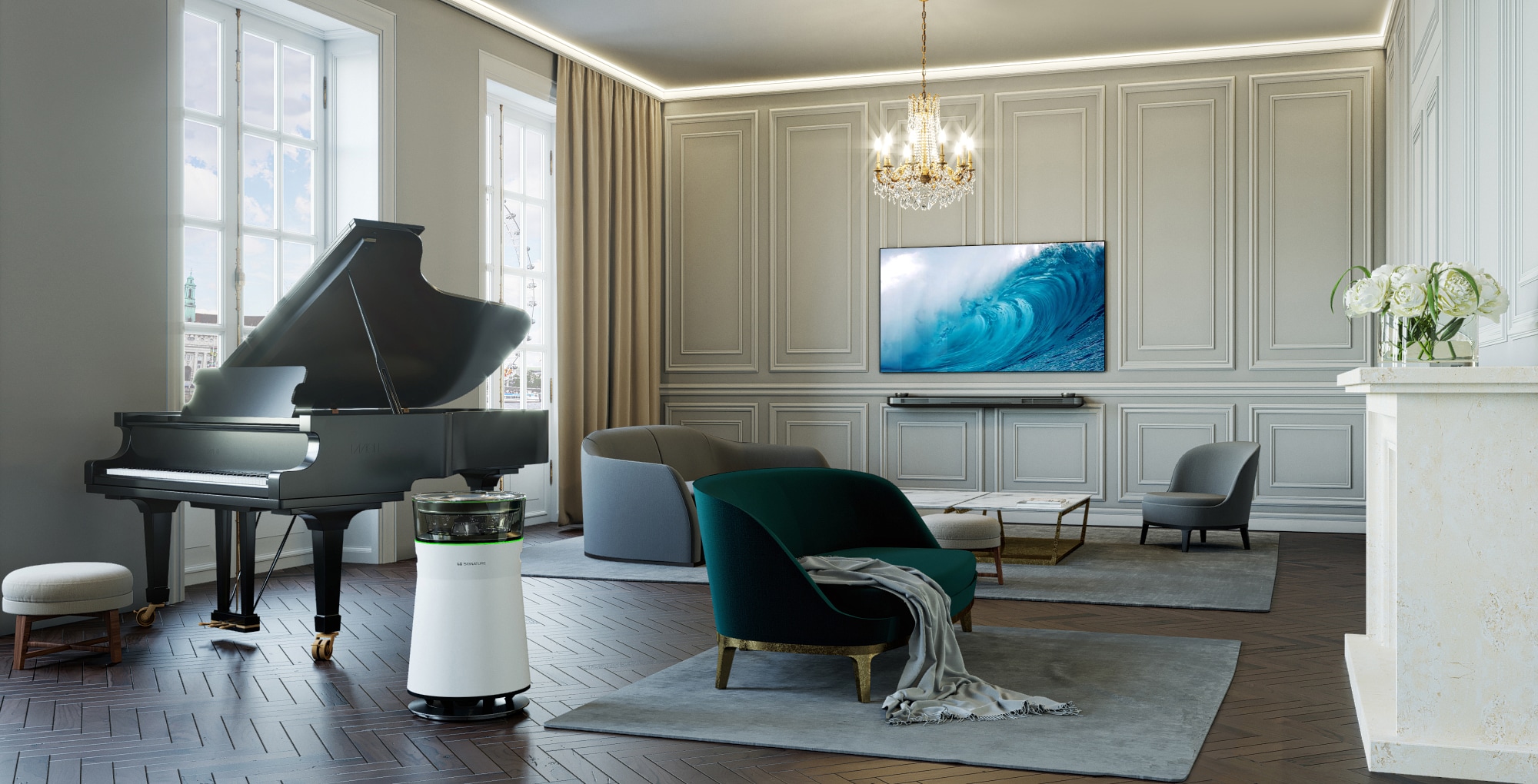 "The regional demand for luxury goods is on the rise and LG SIGNATURE stays true to the essence, delivering a new sense of life for the most discerning customers," said Mr. Kevin Cha, President of LG Electronics Middle East & Africa. "Our role at LG is to innovate for a better life, and with LG SIGNATURE, we not only provide unparalleled performance, but generate an intuitive user experience whilst accentuating aesthetic satisfaction for years to come. We are confident that LG SIGNATURE will thrive in across the GCC and look forward to assisting homeowners with decorating their homes with the most innovative and elegant home electronics and appliances designed to elevate the look and feel of any home in the Gulf and across the world."
The LG SIGNATURE family consists of four ultra-premium products that include the amazingly thin picture-on-glass LG SIGNATURE OLED TV W8 that takes the immersive viewing and listening experience to the next level with its new Artificial Intelligence (AI) feature; the sleek LG SIGNATURE InstaView refrigerator with a beautiful Door-in-Door? feature designed to let you have a glimpse as to what is inside with a single Knock; the innovative and all-white LG SIGNATURE TWINWashTM washing machine that can wash two loads at the same time; and the intuitive LG SIGNATURE Air Purifier designed to filter and purify the air in any home in any environment in order to protect one's family from pollutants and allergens.
LG SIGNATURE OLED TV W8
The television is the centre of any home and entertaining guests is a significant part of the region's culture, and with the ultra-thin LG SIGNATURE OLED TV W8, it has never been more rewarding as it creates a unique living experience. It showcases that simplicity is the ultimate form of art and sophistication. The minimalistic design of the televisions stays true to LG's "less is more" philosophy that aims to highlight the elegance of the screen alone.
Furthermore, the LG SIGNATURE OLED TV W8's ultra-thin profile makes the TV appear to be levitating in mid-air - like a beautiful piece of art – further amplifying the sense of immersion.
LG SIGNATURE Air Purifier
Although the television remains the key highlight of any room, the LG SIGNATURE Air Purifier enhances the overall experience. LG believes that impeccable designs need to be experienced and that purified air is the key to healthy and premium living – especially because we live in a time where we unknowingly pollute our environments using products like perfumes, deodorants, cleaning agents and more that have harmful chemicals that could aggravate asthma or some breathing disorders.
The exceptionally crafted LG SIGNATURE air purifier was engineered with an innovative Watering Engine? that has the unique ability to harness the power of water to filter out dust, chemicals and contaminants while quickly adjusting humidity levels to maximize comfort.
LG SIGNATURE InstaView Refrigerator
True art lives in the kitchen as home owners and culinary enthusiasts cook-up the most decadent meals.
The LG SIGNATURE InstaView Door-in-Door? refrigerator creates another dimension of refined sophistication to the highlight overall ambience. This refrigerator was not only designed to enhance the décor of the kitchen, but orchestrate a master-chef-worthy experience – whether it involves two-quick knocks to get a glimpse of what is inside without opening the door, to foot-feature that enables people to open the door with out the use of one's hands.
The LG SIGNATURE InstaView refrigerator is a true visualization of essence that is both innovative and intuitive designed to elevate levels of creativity and inspiration as one pursuits perfection in the kitchen whilst keeping food fresh.
LG SIGNATURE TWINWASHTM Washing Machine
When it comes to design, the washing machine is one home appliance that is typically neglected as remains hidden and tucked away in a corner of the laundry room. However, the LG SIGNATURE TWINWash Washing Machine was inspired by essence and designed to be showcased, celebrated and experienced. It's minimalistic, clean and ergonomic design is a true testament to LG's quest of creating products that exude sophistication and perfection. Furthermore, it has a timeless look and feel and works in virtual silence due to LG's Centum System.
Each LG SIGNATURE product was purposely designed to be visually astonishing, while staying true to its essence. "Essence" was the true inspiration behind the design philosophy of the LG SIGNATURE brand. By eliminating unnecessary elements and focusing primarily on design and functionality, LG SIGNATURE represents the pinnacle in simplistic performance. For more information on the LG SIGNATURE brand, its cutting-edge products please visit www.LGSIGNATURE.com.
-Ends-
About LG Electronics, Inc.
LG Electronics, Inc. is a global innovator in technology and manufacturing with operations in more than 100 locations around the world. With 2017 global sales of USD 55.4 billion (KRW 61.4 trillion), LG is composed of five companies ― Home Appliance & Air Solutions, Home Entertainment, Mobile Communications, Vehicle Components and Business-to-Business ― and is a world-leading producer of TVs, refrigerators, air conditioners, washing machines and mobile devices in addition to premium LG SIGNATURE products and ThinQ featuring artificial intelligence. For the latest news and information on LG Electronics, visit www.lgnewsroom.com.
Media Contacts:
Maddan Sawant
PR Manager
Tel: +971-4-279-9240
E-mail: madan.sawant@lge.com
LG-One:
Hiba Abou Ghazale
Account Executive
Telephone: +971 4 553 9543
Email: hiba.aboughazale@lg-one.com