As part of World Environment Day initiative LG Electronics partners with Goumbook and the "Give a Ghaf" tree planting program in its efforts towards boosting the ecosystem
Dubai, 5 June, 2016: As part of World Environment Day on Sunday, June 5th identified by the United Nations' as an important day for encouraging worldwide awareness and action for the protection of the environment, LG Electronics Gulf has committed to preserving the national tree of UAE – the Ghaf.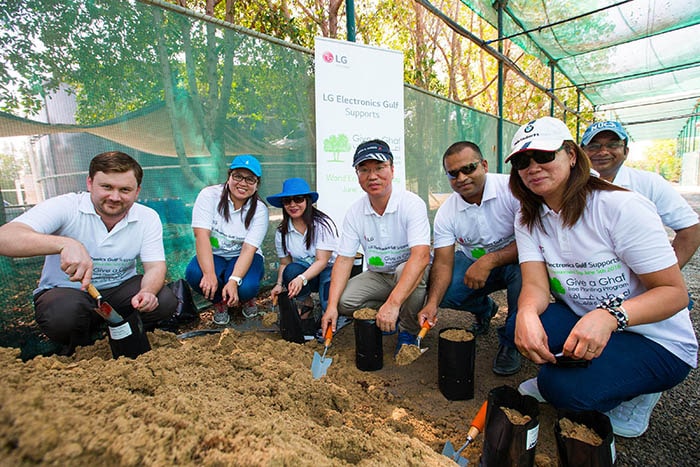 As part of LG Electronics ongoing initiatives globally towards promoting a sustainable way of living, the company engaged in a tree planting initiative to create awareness and promote the significance of the Ghaf tree to UAE heritage and its impact on local ecosystems. The company invited its employees to partake in its Heritage Starts with a Ghaf campaign by planting Ghaf trees as part of the World Environment Day initiative.
In partnership with Goumbook, a regional nonprofit organization aiming at raising awareness about sustainability and green living, and through Goumbook's "Give a Ghaf Tree Planting Program", LG Gulf employees were able to learn, plant, and engage in preserving the national tree of the UAE.
"LG Electronics has participated in World Environment Day around the globe for years, but when our CSR programs materialize into events like our event today, it is magical. Through Goumbook's valued support, we are proud to have contributed to environmental preservation, heritage maintenance and education for our teams at LG Gulf. Residents and expats in the UAE may know little about local heritage and what makes the local ecosystem unique. Through this event, we've been able to celebrate World Environment Day while engaging LG employees with UAE heritage and its unique desert and mystical landscape," said Mr. Yong Geun Choi, President of LG Electronics Gulf.
The Ghaf tree is tolerant to extremely high temperatures, water loss, and high winds. It is a tree that has multiple purposes including stabilizing dunes and improving soils as well as providing shade. The tree today is over grazed, and Ghaf groves are destroyed due to urbanization and development.
Tatiana Antonelli Abella, founder of Goumbook said, "It is through supporters like LG Gulf, whom we thank greatly, that we can we continue to conserve the Ghaf tree and its aesthetical, cultural, and ecological significance. The Give a Ghaf tree planting program is aligned with this year's WED topic 'Go wild for life' as the Ghaf tree is a wild specie considered to be a biological hotspot supporting the survival of up to 50 different indigenous insects, birds and mammals."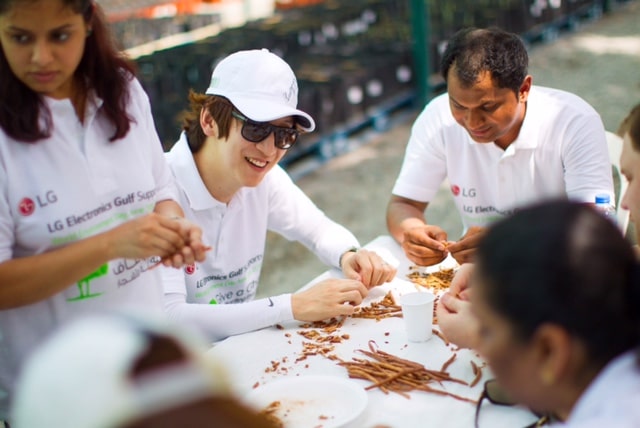 LG employees across the world will also participate in various volunteer activities today to show solidarity with the goals of UN World Environment Day since 2010.
# # #
About LG Electronics, Inc.
LG Electronics, Inc. (KSE: 066570.KS) is a global leader and technology innovator in consumer electronics, mobile communications and home appliances, employing 83,000 people working in 119 locations around the world. With 2014 global sales of USD 55.91 billion (KRW 59.04 trillion), LG comprises four business units ― Home Entertainment, Mobile Communications, Home Appliance & Air Solution, and Vehicle Components ― and is one of the world's leading producers of flat panel TVs, mobile devices, air conditioners, washing machines and refrigerators. LG Electronics is a 2014 ENERGY STAR Partner of the Year. For more news and information on LG Electronics, please visit www.LGnewsroom.com.
About Give a Ghaf Tree Planting Program by Goumbook
The Give a Ghaf Tree Planting Program is a not for profit initiative that wants to raise awareness about the local environment, water scarcity and indigenous plants and trees. Goumbook launched the program in 2010 when the Ghaf was declared the UAE National tree, encouraging people living in the country to plant Ghaf trees and help protect one of the world's most valuable symbols of the living desert. The Give Ghaf project plants tree seeds in collaboration with different partners and after a couple of years that the seeds have been planted, Goumbook gives them back to the local community and donate the trees to be planted in parks, schools or urban areas where natural shade and greenery are needed.