LG expands local presence with a new Air Conditioning showroom in Al Ain
Reinforcing its position as a leader in Air Conditioning business solutions, LG makes its technology more accessible to the region
Al Ain, 6 March, 2019 — Keen to provide the best business solutions, LG Electronics (LG) has opened its new business-to-business (B2B) showroom in Al Ain. Launching an office facility just over two years prior at Bin Hamoodah Tower in Abu Dhabi, the capital remains a key focus for LG's expansion and commitment to the region.
The Al Ain showroom is LG's first in the UAE for commercial air conditioners, showcasing VRF (Multi V) and inverter technology. It sees LG partner with Ghantoot Trading, strengthening the company's growing presence in the UAE. Local clients for LG include the likes of private villa owners, Government organizations and the private commercial sector.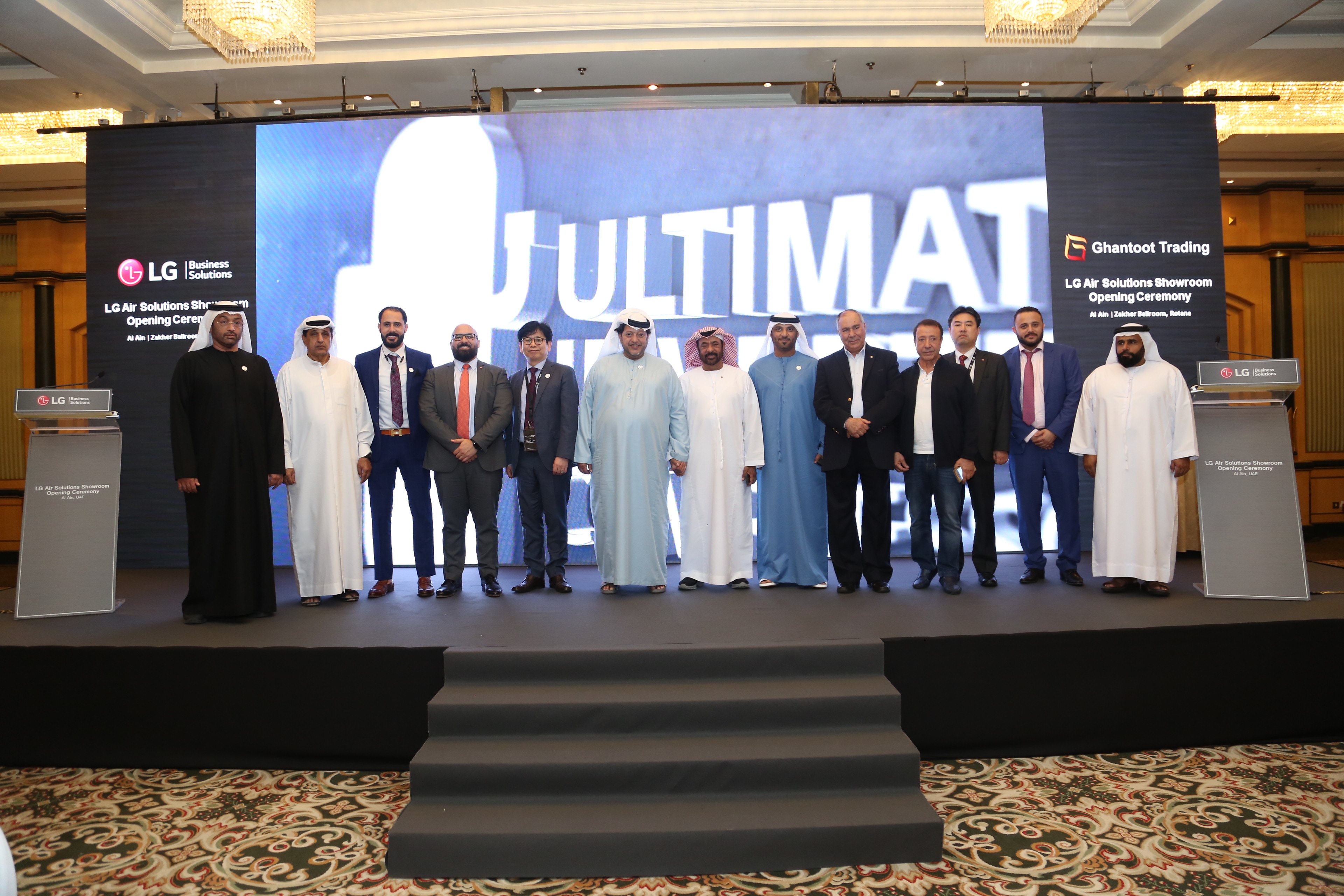 At the exclusive showroom opening, the ribbon-cutting ceremony took place under the patronage of His Highness Sheikh Saeed Bin Tahnoon Al Nahyan, in the presence of, Mr. Hong Ju Jeon, LGEGF President, LG MEA Head of Business Solutions, Mr. Sang Min Lee and Ghantoot Trading Establishment Owner, Mr. Ali Al-Bloushi who were on hand to greet guests. After the opening, key business partners, retailers and media were welcomed at the Al Ain Rotana Hotel, with a presentation showcasing LG's array of efficient business solutions.
Commenting on the opening of LG's Al Ain showroom, Mr. Sang Min Lee stated: "Our growing presence in the UAE is indicative of LG's longstanding relations with local businesses and demonstrates our understanding of their needs. We support businesses towards fostering innovation and are keen to provide methods by which they can operate more efficiently and thrive.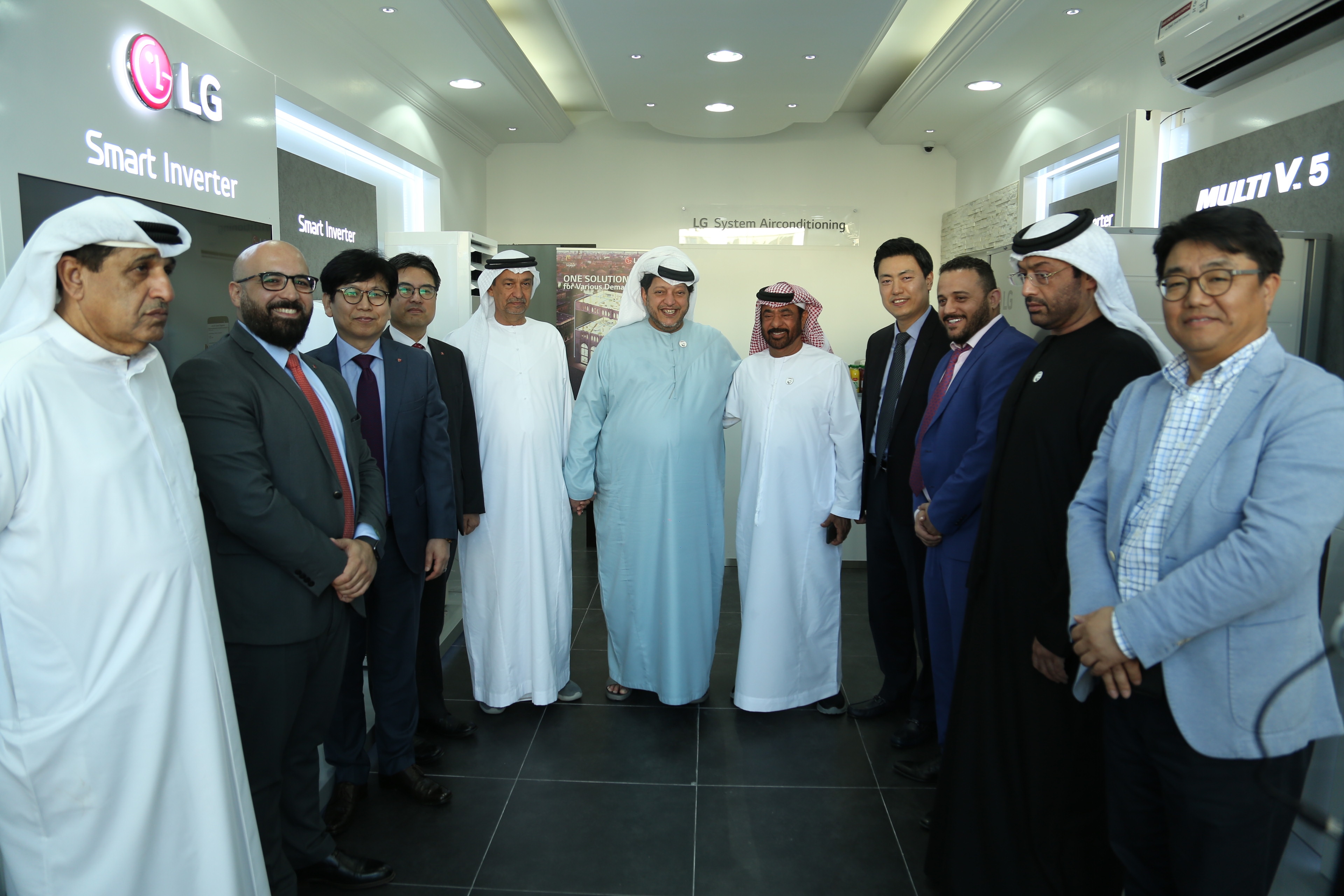 Organizations no longer need to travel long distances to view the latest devices on the market. They can now experience LG's products on their doorstep. From in-store demonstrations to expert advice, businessowners can visit the Al Ain showroom in confidence, knowing that they will leave with an understanding of which solutions to implement and how to better equip their environments with the best technologies from LG."
Products showcased at the presentation included LG's MULTI V 5 Variant Refrigerant Flow (VRF) solution. With its Dual Sensing Control feature, the MULTI V 5 ensures world class energy efficiency, whilst also boasting increased temperature and humidity regulation.
Complete with LG's Ultimate Inverter Compressor, it is a powerful climate control solution that has been built to perform, even in extreme climates. Additionally, the MULTI V5 also comes with Auto Dust Removal. This core feature helps cater towards the demanding weather conditions of Al Ain and the wider region.
LG also highlighted the availability of its Hi-M Solutek after sales service in Al Ain and Abu Dhabi. Hi-M Solutek is the world's leading Heating, Ventilation and Air Conditioning (HVAC) service and maintenance company, which LG hopes will enable businesses to operate with greater confidence and peace-of-mind.
In addition to the MULTI V 5, visitors to LG's Al Ain showroom will also be able to experience the quality of its Floor Standing, Cassette Type, Ducted Split and Residential Wall-Mounted air conditioners. Each AC type caters to a different environment and can be utilized to enhance spaces with increased flexibility. LG AC systems come with High Ambient and Auto Cleaning functionality, withstanding extreme climates and creating a more comfortable environment, with minimal intervention. In addition, their energy-efficient nature ensures that businesses can operate more effectively and reduce consumption costs.
LG's AC solutions are also ADQCC (Abu Dhabi Quality and Conformity Council) certified, signifying their quality and compliance with local Government regulations. Such solutions also come with system integration options, working with connected devices for smart home operators in the UAE. Through the use of efficient energy management solutions, LG is able to provide businesses with smart building applications which reduce consumption and operating costs.
LG regards Abu Dhabi as a strategic business hub for the region, seeking to work in conjunction with the Economic Vision of 2030. Illustrating its commitment to the region, LG's expansion in Al Ain highlights its drive towards making sustainable innovations in technology accessible to a wider array of businesses and partners across the region. In doing so, LG aims to facilitate business growth and support the fast-paced economies of the Middle East and Africa.
LG Al Ain Air Conditioning Showroom
Al Sinayya Area, Near Bin Harmal Mosque, Al Ain, Abu Dhabi
Opening times: Sunday to Thursday (8:30 – 9:00am and 5:00 – 9:00pm)
For further enquiries, please contact: info.ac@GhantootGroup.ae
To find out more about the LG Multi V 5, please visit:
http://www.ccc-sh.net/ae/business/air-solution/vrf/multi-v-5
###
About LG Electronics, Inc.
LG Electronics, Inc. (KSE: 066570.KS) is a global leader and technology innovator in consumer electronics, mobile communications and home appliances, employing 77,000 people working in 125 locations around the world. With 2017 global sales of USD 55.4 billion (KRW 61.4 trillion), LG comprises five business units ― Home Appliance & Air Solutions, Home Entertainment, Mobile Communications, Vehicle Component Solutions and Business Solutions ― and is one of the world's leading producers of flat panel TVs, mobile devices, air conditioners, washing machines and refrigerators. For more news and information on LG Electronics, please visit www.LGnewsroom.com.
Media Contacts
LG Electronics Gulf FZE
Karima Karmouzi
Tel: +9714-350 9500
Fax: +9714-334 4304
Email: karima.karmouzi@lge.com
LG-One
Aaron Budwal
Email: aaron.budwal@lg-one.com