LG SIGNATURE Air Purifier combines sophisticated filtration with
unparalleled design for the cleanest indoor air for your home
Dubai-UAE: 11 October 2018 – Indoor air quality is a luxury that most people take for granted especially in homes that inspired by art and design. All-to-often people spend countless hours and a significant amount of money to maintain their homes to ensure that it is clean and healthy, however with the LG SIGNATURE Air Purifier, indoor air quality is improved significantly without compromising the look and feel of the exquisitely designed living space.
LG recently launched the second edition of LG SIGNATURE across the Gulf region with products that featured its flagship LG SIGNATURE OLED TV W8, the LG SIGNATURE InstaView Refrigerator, LG SIGNATURE TWINWash Washing Machine and the LG SIGNATURE Air Purifier. Although design was at the core when conceptualizing this range of products, it was imperative that it functioned exceptionally well to ensure that people's health and well-being are taken into consideration.
One of the key features of the LG SIGNATURE Air Purifier is that it is equipped with an innovative semi-permanent Black Filter System. Users have the ability to remove the filter, wash it and use it again for up to 10 years. It not only improves the quality of the air in any home, but also saves you countless trips to the hardware store.
"At LG, our goal is to create healthy and liveable environments for people to enjoy the comfort and luxury of their homes," said Mr. Kevin Cha, President LG Electronics Middle East and Africa. "Most people are unaware about how products that are used every day like deodorants, perfumes, cleaning agents and more, can create environments that are filled with airborne contaminants that can not only affect health, but can also damage furniture and home appliances. Taking a proactive step by investing in a quality product like the LG SIGNATURE Air Purifier to protect any carefully curated space will facilitate the longevity of the beautiful space and protect every individual that has the opportunity to enjoy such a luxurious environment."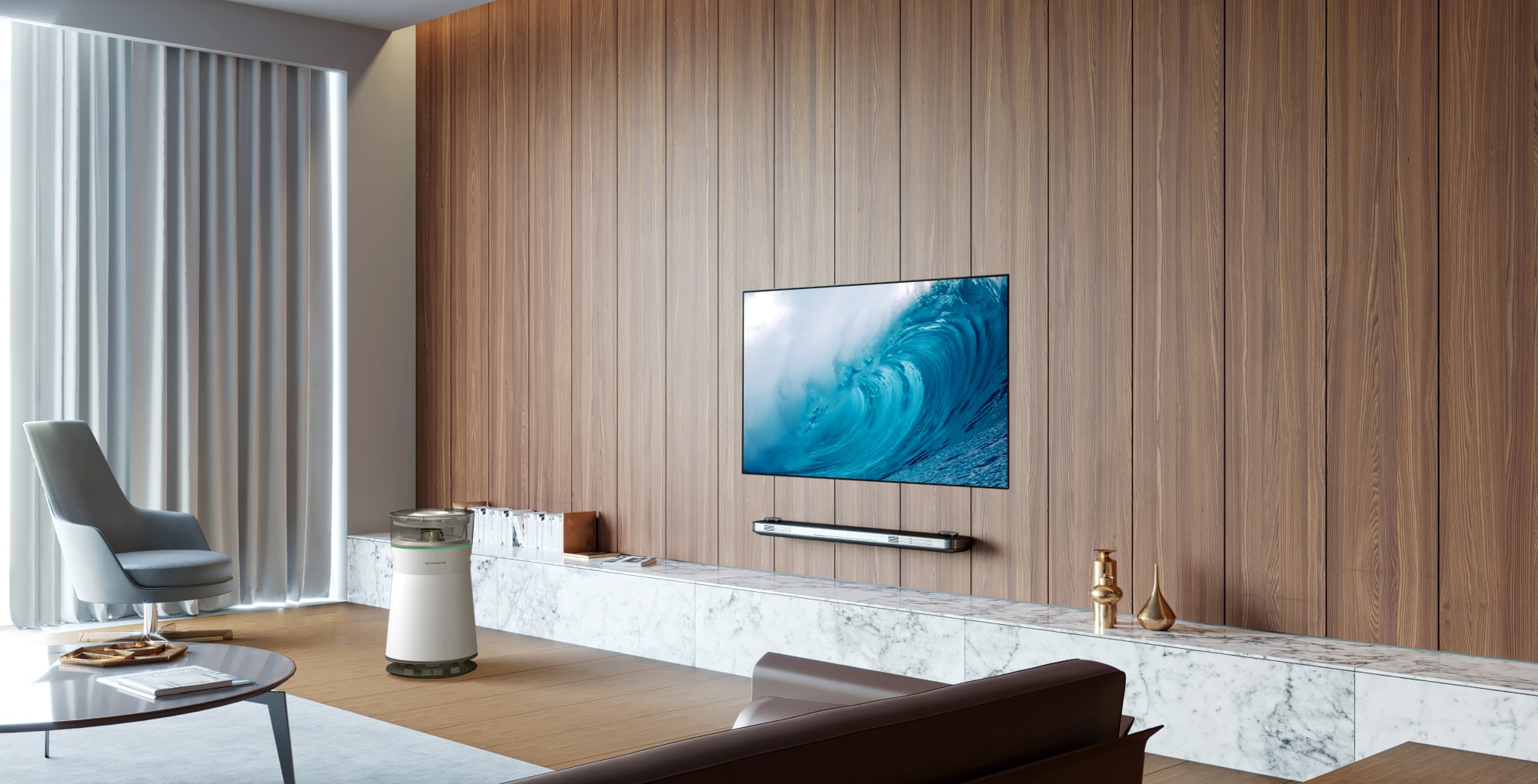 The LG SIGNATURE Air Purifier was designed for timeless aesthetic appeal as it has a smart indicator, a smart lighting system to check the indoor air pollution status with 4-styling colours.
It also boasts a rain view window where one can visualize the air purification process through LG's unique watering system. The watering engine rotates at high speeds powerfully ejecting 18 litres of water in an hour to wash inhaled air which was already purified by the filter system. This additionally helps to create the most pleasant humidity levels to enhance the overall comfort and decadence of any environment.
With regards to humidity, the LG SIGNATURE Air Purifier comes equipped with an Ultra-Violet LED light to sterilize the water in the bucket before it is sprayed to guarantee perfectly clean humidification. Furthermore, for added convenience, once the humidification is stopped, it automatically dries the filters in order to prevent virus and bacteria from building up and being spread.
###
About LG Electronics Home Appliance & Air Solution Company
The LG Electronics Home Appliance & Air Solution Company is a global leader in home appliances, smart home solutions, air quality systems as well as futuristic products featuring artificial intelligence. The company is creating total solutions for the home with its industry leading core technologies and is committed to making life better for consumers around the world by developing thoughtfully designed kitchen appliances, living appliances and air solution products. Together, these products deliver enhanced convenience, superb performance, efficient operation and compelling health benefits. For more information, visit www.ccc-sh.net.
Media Contacts:
Karima Karmouzi
Regional PR Manager/MEA RHQ Marketing Team
Tel: +971-4-279-9507 (Ext. 507)
E-mail: karima.karmouzi@lge.com
LG-One:
Hiba Abou Ghazale
Telephone: +971 4 553 9543
Fax: +971 4 553 9554
Email: hiba.aboughazale@lg-one.com