LG's Focus on Intuitive Design and Efficiency, Develops
User-friendly and Ergonomic Kitchens
LG Electronics' sophisticated cooking appliances equipped to make user lives
more convenient and stress-free
DUBAI, UAE – October 28, 2018: LG Electronics (LG) has always prided itself on being attentive to the requirements of its end-users. In the home, the kitchen is one of the areas that most benefits from ergonomics. In an effort to make food preparation and cleaning as efficient and convenient as possible, LG has released a range of user-friendly and innovative kitchen products to make its consumers' kitchens more functional, stress-free and elegant than ever. A comfortable kitchen is one that is manageable and smart.
In a bid to revolutionize its trend-setting consumers' standard lifestyles with the performance and style they demand, LG's sophisticated line of kitchen appliances and electronics include a range of smart and unconventional refrigerators, cooking appliances, dishwashers, microwaves and much more. These advanced products boast impressive and energy-efficient features such as the Catalytic cleaning feature, which makes cleaning ovens an easy task, considering the feature's technology that absorbs food residues produced while being cooked, and the FRESHBalancer? feature available in some refrigerators, which keeps vegetables and fruits in optimal condition respectively by adjusting the right amount of humidity.
Mr. Kevin Cha, President of LG Electronics Middle East & Africa (MENA) commented: "At a time when the demand for more efficient and eco-friendly products are higher than ever - from environmentally friendly cars, to organic foods to natural skin products, the same is being demanded of home electronics. At LG, we strive to provide our consumers with better performance, more energy savings and premium quality of support that our spectrum of buyers require. We truly believe that our range of LG kitchen appliances can create beautiful and competent cooking spaces while making busy lives more convenient simultaneously."
Using LG's adaptable and cutting-edge technology, users with smart kitchens equipped with LG smart appliances will be able to utilize voice-control via both Amazon Alexa or Google Assistant. LG's line of over 100 SmartThinQ products are already compatible with both services, which can also now be controlled hands-free, such as the QuadWash? Washing Machine and the InstaView Refrigerator – which allows owners to simply knock twice and see what is inside, without letting cool air pour out which saves heaps of energy and keeps food fresher for longer.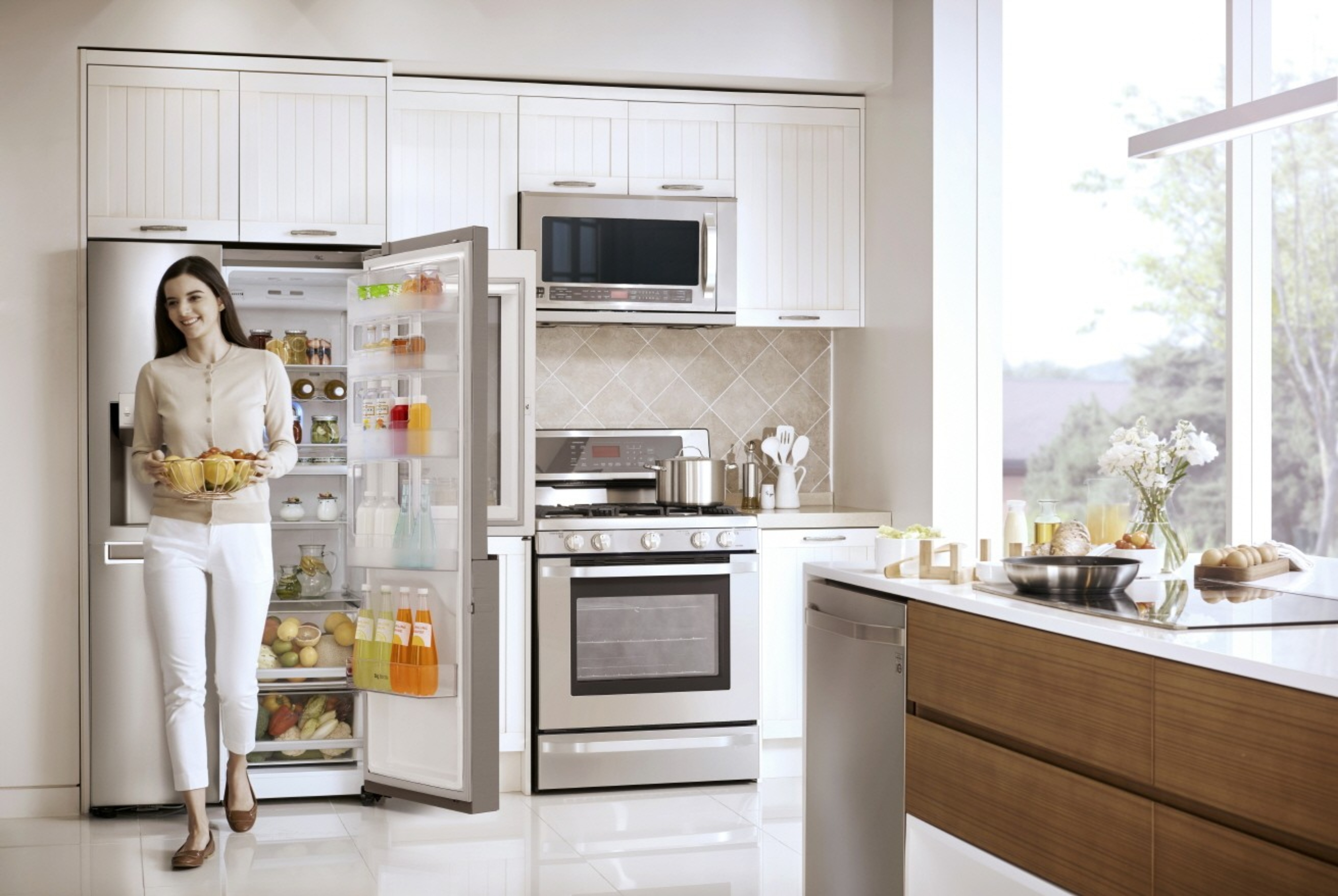 Consumers can control a variety of functions such as temperature control, and load cycles from the tips of their fingertips using their smart phones and tablets. With more flexibility and versatility, users can even receive notifications on their personal gadgets with live updates or ask virtual assistants to perform various preparative tasks.
LG has also introduced various unconventional kitchen appliances such as the NeoChef?, a microwave oven which can ferment yoghurt or even fry eggs. Merging LG's Smart Inverter technology and accessible design, the new NeoChef? brings its customers a whole new level of convenience and ease when it comes to whipping up flavorful, time-saving meals of any desired cuisine. Another example of an unconventional kitchen appliance includes an LG Gas Cooker with capabilities to cook large chunks of meat using a rotisserie and dual heating.
LG Gulf continues to set a very different example to other appliance-making companies by designing products that are specific to the conditions of the region and consumer lifestyles based in this part of the world. At its core, LG aims to have its product consumers at ease with the knowledge and comfort that their line of products deliver innovation built around the user-experience and dependability in the kitchen; ensuring its continued standard label of excellence without comprising consistent user satisfaction.
To find out more about the LG kitchen appliances please visit http://www.ccc-sh.net/ae/kitchen-appliances.
# # #
About LG Electronics, Inc.
LG Electronics, Inc. (KSE: 066570.KS) is a global leader and technology innovator in consumer electronics, mobile communications and home appliances, employing 77,000 people working in 125 locations around the world. With 2016 global sales of USD 47.9 billion (KRW 55.4 trillion), LG comprises four business units ― Home Appliance & Air Solutions, Mobile Communications, Home Entertainment and Vehicle Components ― and is one of the world's leading producers of flat panel TVs, mobile devices, air conditioners, washing machines and refrigerators. LG Electronics is a 2016 ENERGY STAR Partner of the Year. For more news and information on LG Electronics, please visit www.LGnewsroom.com.
About LG Electronics Home Appliance & Air Solution Company
LG Electronics Home Appliance & Air Solution Company is a global leader in home appliances, air conditioning and air quality systems. The company is creating total solutions for the home with its industry leading core technologies. LG is committed to making life better for consumers around the world by providing thoughtfully designed products, including refrigerators, washing machines, dishwashers, cooking appliances, vacuum cleaners, built-in appliances, air conditioners, air purifiers and dehumidifiers. Collectively, these products deliver enhanced convenience, superb performance, great savings and compelling health benefits. For more information, please visit www.ccc-sh.net.
Media Contacts:
Karima Karmouzi
Regional PR Manager/MEA RHQ Marketing Team
Tel: +971-4-279-9507 (Ext. 507)
E-mail: karima.karmouzi@lge.com
LG-One:
Hiba Abou Ghazale
Telephone: +971 4 553 9543
Fax: +971 4 553 9554
Email: hiba.aboughazale@lg-one.com