LG's Innovative and Intuitive Solutions Make Back-to-School
Season more Convenient for Parents with Busy Lifestyles
Dubai - UAE: 11 September 2018 – The first week of school is always challenging as parents need to help their children adjust to school hours, new projects and curriculums as well as daily routines. In today's fast paced world, it's even harder for those parents who have jobs. However, LG renowned for being an innovative company, is constantly developing and evolving its offering to help make the lives of parents more convenient, wherever they may be.
In the Middle East & Africa (MEA) region, LG offers a wide variety of adaptable products and solutions to help parents save time and effort doing the mundane but mandatory home chores and spend more time being stress-free to care for their families and ensure that their needs are met. A great example would be the ergonomically designed TWINWash? washing machine, whereby two laundry loads can be washed at the same time.
"Time is the only commodity that we can never get back, and during this back-to-school season, we believe it is important for parents to be accessible and spend as much time as possible to help their children adjust to the new lifestyles that they will have for the remainder of that scholastic year," said Mr. Kevin Cha, President LG Electronics Middle East & Africa. "We design and develop our solutions to help homemakers ensure that their families receive the best quality of care possible further enhancing and enriching their lives."
Healthy lifestyles are quickly becoming popular in the region with people opting for them and their families to have home cooked meals and the key to delicious home cooked meals is having the freshest ingredients.
The consumer-oritented LG InstaView Door-in-Door? Refrigerator was engineered to keep food fresh. Not only does the fridge allow people to look inside with just two simple knocks (saving a significant amount of energy in the long-run), it also equipped with Hygiene Fresh+? that automatically cleans and purifies its internal air, ensuring that the air inside is kept fresh and hygienic. Furthermore, its five-stage filtering system helps keep food fresher for longer.
Furthermore, in terms of savings, LG's Inverter Linear Compressor has revolutionized the core of the refrigerator, providing up to 32% in energy savings, top-rate 20-year durability and optimal temperature control to keep foods fresher longer.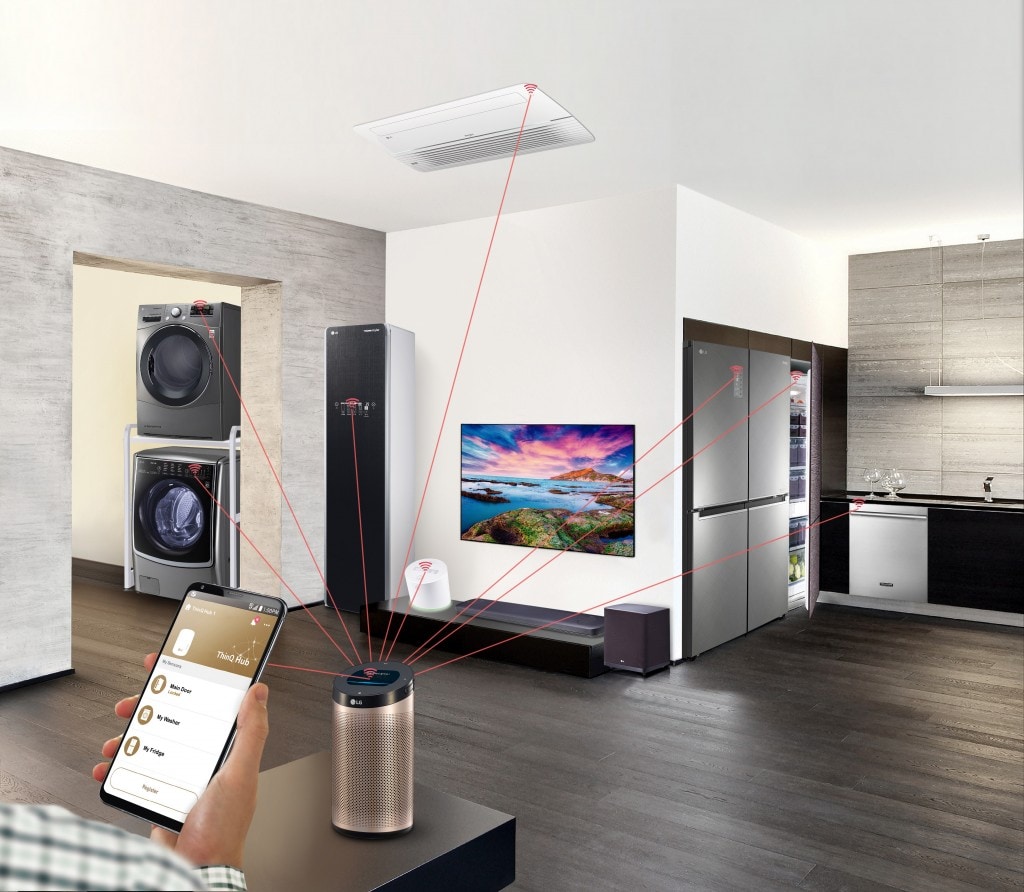 Although time is never on people side when preparing healthy home cooked meals, LG has tipped the scales in the favour of homemakers with the agile LG NeoChefTM as now with just this one appliance, you can fry up foods or simply warm them up. Plus, the NeoChefTM can even ferment home-made yogurt.
What makes the LG NeoChefTM unique is LG's Smart Inverter technology that provides precise cooking power to reheat and defrost a wide range of foods faster than ever. Thanks to a precise temperature control, homemakers can cook a variety of dishes that microwaves were previously never able to prepare – making preparing meals for school a pleasure as opposed to a chore.
"The solutions we have developed at LG are designed for hardworking people that are always pressed for time," said Mr. Cha. "As we venture more towards the IoT and our range of home appliances and electronics get equipped with LG's own AI technology – LG ThinQ – People have more control over their everyday lives via their smartphones through LG's SmartThinQ mobile application."
Users can already control washing machines, air conditioners and more via LG SmartThinQ? app. In the near future, Back-to-school will become even more enjoyable as technology will serve a significant portion of people's daily routines allowing them to spend more time creating memories that will last a lifetime.
-Ends-