LG'S LATEST ULTRAWIDE MONITORS
DESIGNED TO BOOST PRODUCTIVITY IN THE GCC
37.5 and 34-inch Curved Monitors for Greater Visibility and Multi-Tasking with Ease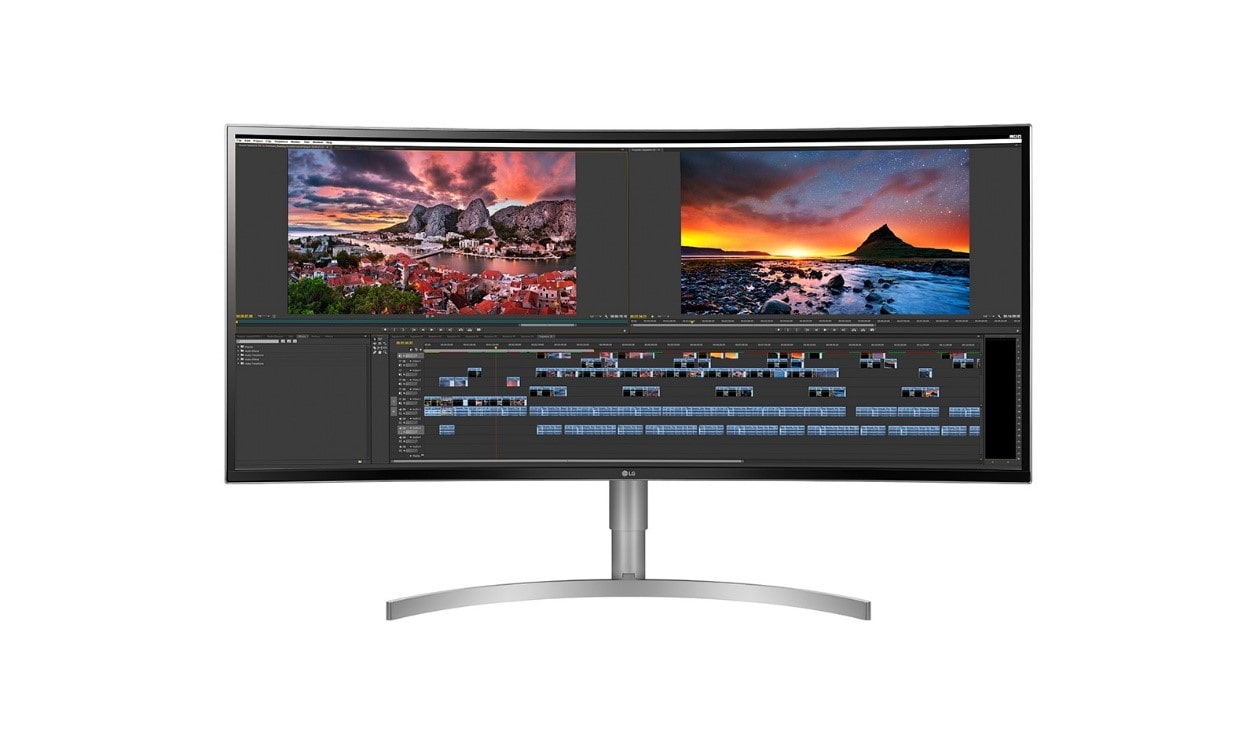 DUBAI, October 1, 2019 — LG Electronics (LG) has unveiled the latest in its family of curved UltraWide monitors which improve productivity with larger displays, vibrant color and clarity.
The new monitors can handle any demand placed upon them through their advanced Quad High Definition (QHD) screens, which allow for pristine views of everything from videos to text heavy documents. LG's UltraWide technology (21:9 aspect ratio and higher) means greater screen real estate, making them the ideal companion for any task.
37.5-inch LG Curved UltraWide Monitor (Model: 38WK95C-W)
Boasting a large screen with a stunning resolution of 3840 x 1600, the 38WK95C-W proves that bigger is better. The 21:9 QHD+ display resolution is equivalent to three times that of a standard HD screen. The wider display results in more information viewable on screen at a higher level of detail through the sRBG 99per cent coverage of the DCI-P3 color gamut.
The HDR10 monitor can also showcase the latest console games and video on demand at their highest quality levels. The streamlined 3-Side Virtually Borderless Design has a slim bezel on three sides and Rich Bass for an immersive visual and audio experience.
With a curved screen, Picture-by-Picture display and OnScreen controls, the 38WK95C-W makes it easy to switch between tasks without losing performance or display quality. Its sleek, curved screen and ergonomic height and tilt adjustable stand make the content viewable at an angle which is most convenient for the user.
34-inch LG Curved UltraWide Monitor (Model:
The newest edition to LG's range of curved UltraWide monitors is the elegantly designed LG 34WL85C-B. With its pixel count of 3440 x 1440, the monitor is ideal for video editing, enabling producers to view their video timeline and multiple clips of footage at the same time.
Its industry leading nano IPS display effortlessly reproduces subtle color tones and contrast, meaning designers and filmmakers can work in finer detail. On-screen controls make switching between tasks a breeze, with documents equally as clear as photographs and a 5:9 ratio preview giving users the ability to change work priorities on the fly.
The curved screen is built into an ergonomically designed stand that is height and tilt adjustable to suit the requirements of the user and their task at hand. It makes it the perfect workstation for visual effects professionals, graphic designers, movie editors and streamers among others.
The 34WL85C-B's HDR10 technology coupled with Maxx Audio and color reproduction covering 99 percent of the sRGB color space also makes watching movies and gaming far more immersive. The Picture-by-Picture mode means no pixel goes to waste, with content from multiple sources viewable side-by-side. Additionally, users can work with multiple applications, simultaneously.
With USB Type-C ports, charging devices and transferring data is possible through the use of one simple cable.
To find out more about LG's range of monitors designed to enhance immersion and efficiency, please visit: http://www.ccc-sh.net/ae/monitors
# # #
About LG Electronics Home Entertainment Company
The LG Home Entertainment Company is an industry leader in televisions, audio video systems, monitors, projectors and portable computers. The company is a recognized innovator in the industry for its leadership in OLED TVs which is revolutionizing the premium TV category. LG is committed to improving customers' lives with innovative home entertainment products led by category-leading OLED TVs and award-winning NanoCell TVs featuring artificial intelligence capabilities. For more information, visit www.ccc-sh.net.
Media Contacts:
Karima Karmouzi
LG Electronics MEAHQ
Tel: +971 563105587
Email: karima.karmouzi@lge.com
Aaron Budwal
LG-One
Email: aaron.budwal@lg-one.com